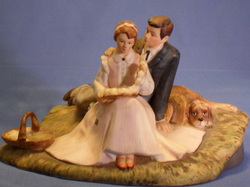 It was 1981 and my fiance and I were looking for something different for our wedding cake topper. What we found was a ceramic sculpture of a man and a woman sitting on the grass. It reminded us of sitting on the river bank where we planned our future, her favorite pink dress and the life we would share. It reflected us in a way no mass produced off-the-shelf bride and groom ever could. Thirty four years later, the sculpture still sits on our shelf to remind us of that day.
---
At Top-O-The-Cake we want to create your unique piece for your special occasion be it a wedding cake topper, a birthday cake topper, a graduation cake topper, a retirement cake topper or a piece of sculpture just to say I love you.

Since this is all about you, you are integral to the creative process. It starts with you telling me your ideas. I develop a sketch incorporating your thoughts into a two dimensional image. Our toppers are made with polymer clay so options abound from swimming under the ocean to flying through the air. Once you approve the sketch, I turn your vision into a sculpture.